Celebrating the 50th Anniversary of Earth Day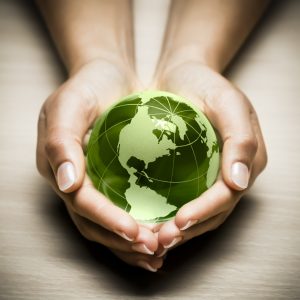 The Hawaii State Energy Office joins the world in celebrating the 50th anniversary of Earth Day.
Organized on April 22, 1970, the first Earth Day called on Americans to campaign for a better environment and push for environmental consciousness.
The HSEO is moving forward on this mission under Act 122 (2019) to promote energy efficiency, renewable energy, and clean transportation to help achieve a resilient, clean energy, decarbonized economy. We are developing policies and programs to achieve our energy and climate change goals while identifying strategies that create jobs, lower costs, and improve quality of life in Hawaii. We look forward to working with our communities across the islands and our colleagues across the globe.
Here's what we're doing to malama the aina:
| | |
| --- | --- |
| I am passionate about the work I do on the Hawaii Okinawa Clean Energy Partnership and the community-based renewable energy projects. – Ryan M. | I support the office's clean energy activities and agenda through the procurement and contracting of goods and services. – Susan G.E. |
| I support the Energy Office with daily operational and fiscal duties. This enables the staff to concentrate on their clean energy projects. I've also reduced my carbon footprint by living in downtown, so I walk to and from work.  – Denise F. G. | I help to facilitate projects in the areas of renewable energy, transportation and energy efficiency to support pathways to accelerate progress on our carbon free economy goals. – John M. |
| With the installation of a rooftop PV system on my home I am better able, as the Energy Office communications officer, to explain the benefits of clean energy and decarbonizing Hawaii's economy. – Alan Y. | Improving air quality with zero-emissions vehicles! – June C. |
| I manage internal office procedures and operations at the department, state, and federal levels. By providing secretarial and administrative support to the energy program managers and the professional staff members, they are relieved of clerical and administrative details allowing them to focus on their renewable energy and energy planning initiatives. – Marika M.H. | I am bringing sustainability awareness throughout the business sector through the recruitment and advertisement of the Hawaii Green Business Program. – Chris B. |
| I support HSEO's public outreach and educational programs. Promoting our goals, mission, and values is key to reaching our clean energy goals. – Kathy Y. | My energy code work at the national level enables America's new homes and buildings to enjoy better health and comfort with less energy input. My code work in Hawaii incorporates wholly new measures that lower costs and heighten efficiency. – Howard W. |
| 50 years ago, Earth Day was created to show the broad public support for caring for our environment. At the Energy Office, we are reinventing ourselves real time to better achieve our energy and climate goals in a way that is more sustainable and in line with the broad support for Hawaiʻi to steward its environment better. – Scott G. | Living Aloha and Earth Day everyday! Efficiency first + Renewable Energy = Clean Energy at home and at work. – Gail S.J. |
| I support the administrative and fiscal processes behind HSEO's clean energy initiatives. – Donna M. | I provide administrative support and services to the Energy Efficiency Branch. The work we are doing is very important towards transforming Hawaii to a clean energy economy. – Mei H. |
| I am helping to develop strategic pathways and funding sources to accelerate progress on our carbon free economy goals. – Kirsten B. T. | I work on resource efficiency programs and initiatives with my assistant, Groot. – Carilyn S. |
| Planning a net-negative carbon economy allows me to provide a better world for future generations. A big piece of that picture is rethinking our relationship with mobility and integrating resiliency into the energy system. – Chris Y. | I'm helping to develop data visualization tools to aid in the analysis and understanding of Hawaii's energy ecosystem in support of achieving a 100% Renewable Portfolio Standard. – Michael S. |
| I collect and process energy data and information that contributes to the progress of our carbon free economy goals. – David S. | I oversee the technical assistance for energy performance contracting program which helps state and county agencies decrease energy consumption while reducing their carbon footprint. – Alan O. |
| I'm working to help build more resilient energy systems. – Mark W. | I make sure that our staff are accessible to community and industry stakeholders.   – Robin S. |
| I'm working to bring together wisdom, knowledge, skills, resources, and heart (caring) to protect our future and care for the `aina.  Logging in to training on technologies, projects, costs, emissions, and impacts, so that we can listen, understand, explain, and develop solutions to energy, economic, and environmental issues facing us now, and in the coming year, and in the years after that.  – Maria T. | At the HSEO, I am working on the Solar Water Heater Variance Program to assist people in selecting an energy efficient water heater for their new Hawaii home. This is how we demonstrate that we are caring for the earth. – Dean M. |
| I hope my job supports the decision-making and development of renewable energy projects all Hawaii residents can be proud of, starting with the host communities in which they are located.  As long as we use electricity in our daily lives, reliable and local sources are necessary for Hawaii to be energy self-dependent once again. – Cam B. | |