Financial Resources

GreenSun Hawaii
Sustainability Made Affordable
Green Sun Hawaii is an innovative financing program administered by the Hawaii Community Reinvestment Corporation (HCRC), utilizing proceeds from an Energy Efficiency and Conservation Block Grant ("EECBG") from the U.S. Department of Energy, available through appropriations under the American Recovery and Reinvestment Act of 2009 ("ARRA") received by the State of Hawaii Department of Business, Economic Development and Tourism (DBEDT), to increase energy efficiency in Hawaii by providing residential, multi-family, nonprofit and business property owners with an affordable means of financing the installation of energy efficient and renewable energy equipment. 
 
GreenSun Hawaii makes energy improvements for homes, multi-family projects, nonprofit organizations and businesses affordable by partnering with local banks and credit unions statewide and providing participating lenders access to a loan loss reserve designed to absorb first losses on loans made to finance eligible energy efficiency and renewable energy system installations. As part of the Hawaii Clean Energy Initiative, which aims to achieve 70% clean energy by 2030, GreenSun Hawaii aims to increase the use of solar energy, decrease the state's dependence on imported fuel and lower overall energy costs throughout the islands.  To accomplish this, the GreenSun Hawaii Program consists of two tracks:
1. The GreenSun Legacy Program enables participating Lenders to offer eligible property owners loans with the most aggressive loan terms and interest rates than may otherwise be offered without the Program.
2. The GreenSun CAP Program increases access to capital and expands financing options for underserved property owners.  By absorbing some of the risk, the GreenSun Capital Access Program's credit enhancement encourages participating Lenders to consider loans that may otherwise fall outside of conventional underwriting standards. 
Who is HCRC?
Hawaii Community Reinvestment Corporation (HCRC) is a community based 501(c)3 nonprofit organization established in July 1990.  HCRC is designated as a Community Development Financial Institution (CDFI) and a Community Development Entity (CDE) by the U.S. Department of Treasury.  HCRC is also an approved Certified Development Company (CDC) by the U.S. Small Business Administration. HCRC's mission is to provide innovative financing, financial resources, consulting, and training to facilitate affordable housing, community development and economic development throughout the state of Hawaii. HCRC has been contracted by DBEDT to administer this loan loss reserve program, with funds granted by the U.S. Department of Energy, in an effort to reduce risks for financial institutions and extend eligibility for Hawaii property owners (residential and non-residential) who seek to purchase and install energy efficiency and/or renewable energy equipment. 
How does the GreenSun Hawaii program work?
GreenSun Hawaii is a credit enhancement program that provides participating Lenders access to a loan loss reserve earmarked specifically for each Lender.  Depending on which GreenSun Program a loan is enrolled (GreenSun Legacy or GreenSun CAP), contributions to the Lender's loan loss reserve account may range from 4% to 14% and first losses covered on defaulted loans may range from 10% to 100%.
The participating Lender will determine which program a loan will be enrolled in (GreenSun Legacy or GreenSun CAP). 
The GreenSun Hawaii program is a public-private partnership which has the ability to leverage $2.67 million in federal funds into $53 million in energy efficiency loans statewide. 
What are the terms of GreenSun Hawaii issued loans?
Loan terms vary by Lender. While the GreenSun Legacy program requires that interest rates on consumer loans not exceed an initial maximum of seven percent, fixed for ten years, each Lender has the flexibility to offer lower rates and/or longer repayment terms.
 
Rates and terms on commercial loans for GreenSun Legacy multi-family, nonprofit and business property owners, as well as GreenSun CAP program loans will vary depending on the credit worthiness of the applicant as well as the underwriting criteria of the participating financial institution.
 
GreenSun CAP program loans will require the participating Lender and/or Borrower to also contribute to the Loan Loss Reserve in an amount ranging from 2% to 7%.
What is involved in the loan application process?
Homeowners can apply by either visiting a participating Lender or completing a user-friendly online application at GreenSun Hawaii Financing Programs. The application will be simultaneously submitted to up to three participating Lenders of the customer's preference, increasing the probability of approval and financing options. The selected financial institution(s) will contact the applicant directly on the status of the loan application. 
 
Multi-family and non-residential property owners should apply directly with their Business or Commercial Banker at any participating financial institution.
 
A list of participating Lenders can be found at GreenSun Hawaii Financing Programs.
What types of energy efficient equipment installations are eligible for financing?
For consumers, GreenSun Hawaii financing may be used to purchase energy star refrigerators, solar thermal (or other eligible) water heating systems, and/or solar electric photovoltaic systems.
 
For multi-family and non-residential property owners, working with Hawaii Energy or Kauai Island Utility Cooperative, an authorized energy contractor will conduct an assessment on the facility.  Eligible expenses and installations for these properties shall be based on the cost-benefit recommendations of the assessment and may include, but are not limited to (a) Lighting Retrofits/Upgrades; (b) Air Conditioning Retrofits/Upgrades; (c) Solar Thermal Systems; (d) Solar Electric Systems; (e) Energy Efficiency Windows; and (f) Fees related to financing, including but not limited to, Loan Fees, Documentation Fees, and other loan closing costs.
Can GreenSun Hawaii be used in conjunction with other solar rebates and credits and programs?
Yes, GreenSun Hawaii financing can be used in conjunction with Hawaii Energy and Kauai Island Utility Cooperative rebates as well as federal and state tax credits. 
For a limited time, participating Lenders may even combine GreenSun Hawaii's program with Hawaii Energy's current Hot Water Cool Rates interest buy-down program.
How can I find out about rebates and federal tax credits for financed improvements?
Your authorized contractor will be able to help you determine what incentives, including rebates and tax credits, are offered on energy systems you choose to install. Rebates are currently available on certain appliances and equipment through Hawaii Energy or Kauai Island Utility Cooperative.  Visit Hawaii Energy or Kauai Island Utility Cooperative for rebate and tax credit information.
Why should I use a GreenSun Hawaii Authorized Contractor?
Authorized contractors meet requirements for licensing, insurance, and third-party certification.  More importantly, only installations performed by GreenSun Hawaii authorized contractors will qualify for the GreenSun Hawaii loan program with a participating Lender.
 
You will be entering into a direct contract with the authorized contractor of your choice and it is important that you review their credentials, qualifications, and references to make an informed decision. GreenSun Hawaii, HCRC or the State of Hawaii does not endorse any particular contractor.  A list of Authorized Contractors can be found at GreenSun Hawaii Financing Programs.
GreenSun Hawaii – Sustainability Made Affordable brochure (PDF)
GreenSun Hawaii news conference on October 26, 2011
DBEDT GreenSun Hawaii news release (PDF)
Hawaii Energy – State Energy Conservation and Efficiency Program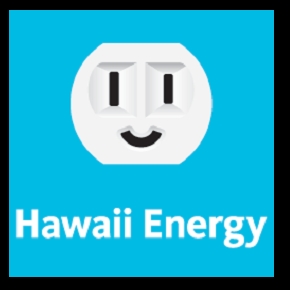 Hawaii Energy is the state energy conservation and efficiency program implemented to help reduce Hawaii's dependence on foreign oil. By utilizing ratepayer funds, Hawaii Energy offers rebates and other incentives to Hawaii residents and businesses to help offset the cost of installing energy efficient equipment.
For more information on residential and business incentives including solar water heating, air conditioners, compact fluorescent lights (CFLs), and much more visit Hawaii Energy.
Database of State Incentives for Renewables and Efficiency

The Database of State Incentives for Renewables and Efficiency (DSIRE) is a comprehensive source of information on state, local, utility and federal incentives and policies that promote renewable energy and energy efficiency. Established in 1995 and funded by the U.S. Department of Energy, DSIRE is an ongoing project of the N.C. Solar Center and the Interstate Renewable Energy Council.
Information on Hawaii's incentives and policies for renewables and efficiency including financial incentives; rules, regulations and policies; and related programs and initiatives are available at DSIRE Hawaii.