Hawaii Carbon Pricing Study
(Note: Additional materials will be added to this website as they are developed and become available.)
This first-ever Hawaii-specific study was prepared for the Hawaii State Energy Office by the University of Hawaii's Economic Research Organization (UHERO) as part of Act 122, Session Laws of Hawaii 2019. In authorizing the study, the Hawaii State Legislature stated that "climate change [was] expected to cost the State at least $19,000,000,000 in losses from sea level rise alone, making the switch to renewable energy and the ultimate reduction of atmospheric carbon a priority."  
The Hawaii State Energy Office contracted with UHERO to complete the study. 
The study includes an illustrative range of tax amounts to explore options for achieving Hawaii's policy goals. The Hawaii-specific modeling scenarios are important for deliberations at the Legislature and to further public understanding of how carbon pricing could address the climate crisis, while enhancing Hawaii's economy and caring for the most vulnerable among us.  
Read Carbon Pricing Assessment for Hawaii: Economic and Greenhouse Gas Impacts, Final Report, April 2021 (PDF).

Between the commencement of the study and the release of this draft final Carbon Pricing Assessment for Hawaii: Economic and Greenhouse Gas Impacts, the global COVID-19 pandemic emerged, bringing with it unprecedented global health and economic crises. Hawaii has been one of the hardest economically impacted states in the U.S., with UHERO recently reporting the "statewide unemployment rate remains more than twice the national average." (Go to University of Hawaii News, UHERO article.) Therefore, there are significant differences between the economic conditions in which this study was first designed and the pandemic-influenced economic circumstances of 2021. 
While the study does not speak to economic recovery, the study offers insights at this critical time. The world is grappling with how to ensure no one is left behind in the clean energy revolution. This report demonstrates that a tax on greenhouse gas pollution and a direct payment to Hawaii's households, when structured correctly, would help households–especially our most vulnerable–in the move to a clean energy economy. 
The next step after this study is the careful consideration of the details of a proposed policy, such as how, when, and to whom a direct payment would be distributed, the timing and amounts, and sufficient notice to everyone to prepare for it. 
Key Takeaways from the Study

If carbon tax revenues are given back to households in equal shares, a carbon tax is progressive – meaning this revenue recycling approach generally benefits lower-income households more than higher income households. ​

Visitors would pay the carbon tax through the goods and services they purchase while in Hawaii, and these revenues would be directly transferred to Hawaii's households if a dividend accompanies the carbon tax. ​

The lower carbon tax scenario (set at the "social cost of carbon" (SCC) from the U.S. EPA, 2016) results in a 40% reduction of greenhouse gases (GHGs) from 2019 levels, with small impacts on the overall economy. Giving revenues back to households in equal shares makes households economically better-off. ​

The higher carbon tax scenario (estimated to put Hawaii substantially on the path towards achieving deep decarbonization by 2045) results in an 80% reduction from 2019 levels, with a high economic cost. This scenario causes overall declines in household welfare because the high carbon tax causes economic contraction, which dominates other positive effects induced by the tax. This outcome suggests that new technologies must be developed and adopted to cost-effectively meet Hawaii's goal of net negative emissions.
(Note: The Biden Administration plans to update how it calculates the social cost of carbon.)
How Would a Carbon Tax Work in Hawaii?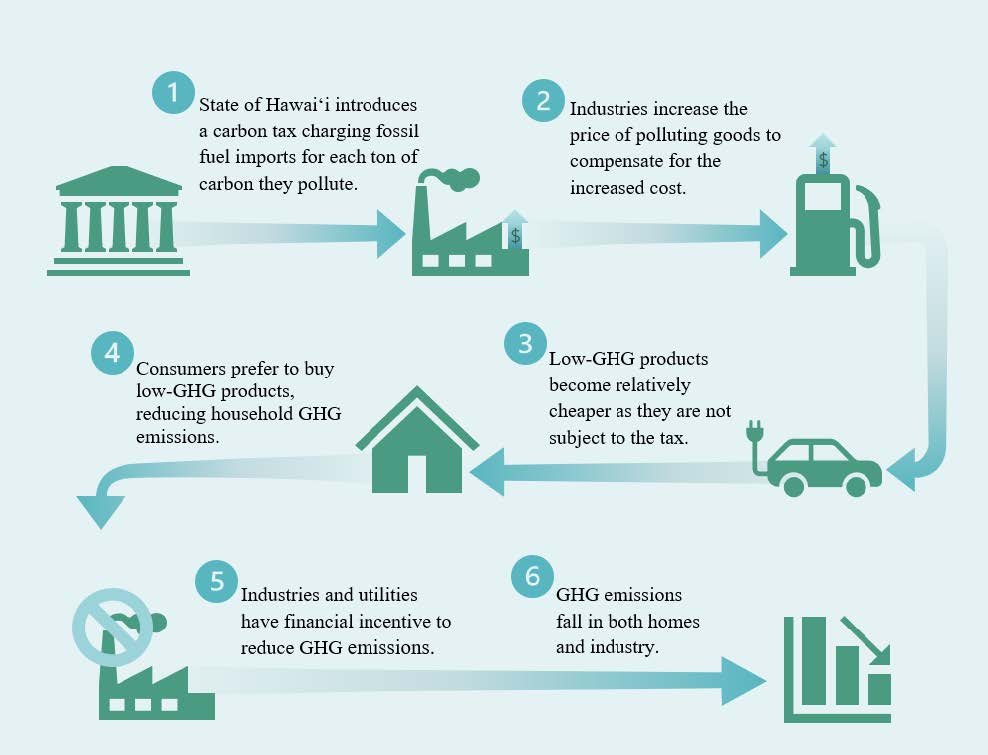 Flowchart adapted from Spraggon (2013)
Carbon Tax and Revenue Recycling Options Considered in the Study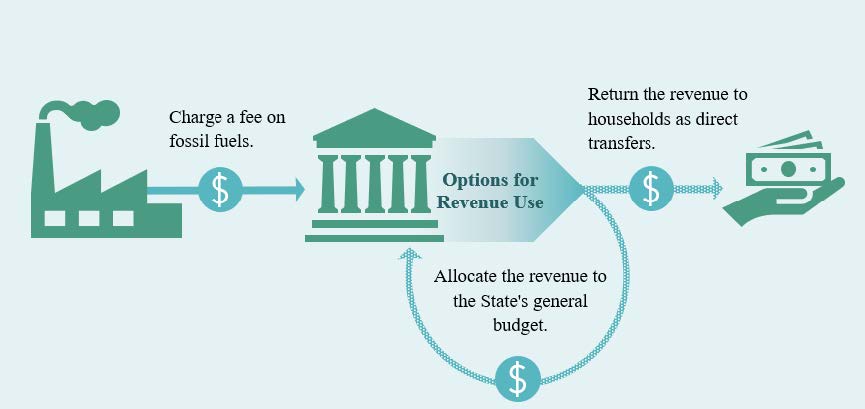 State of Hawaii Climate Change Commission Meeting, April 7, 2021
View presentation: Carbon Tax Assessment for Hawaii Economic and Greenhouse Gas Impacts (PDF)
Presented by Makena Coffman, Director, Institute for Sustainability and Resilience Professor, Urban and Regional Planning Research Fellow, UHERO
Meeting recording available on YouTube. Carbon study topic begins at 1:06:41.