MARIA TOME, MANAGING DIRECTOR, ENERGY EFFICIENCY AND RENEWABLE ENERGY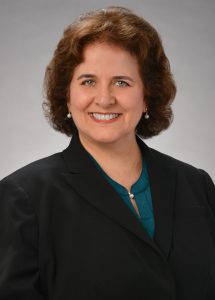 Maria Tome, Managing Director, Energy Efficiency and Renewable Energy for the Hawaii State Energy Office, is a licensed Professional Engineer with a master's in public administration and over 20 years of experience in renewable and transportation energy in Hawaii. Maria has been involved in developing statewide energy strategies; resource assessments; policy analyses; environmental assessments; and technical review of electricity and fuel production, distribution, and use. In these endeavors Maria worked closely with local and national industry, environmental, community, and energy experts, and was involved with standards bodies and regulatory agencies.
Under Maria's leadership the Energy Efficiency and Renewable Energy Program is tasked with supporting renewable energy projects and initiatives that will help the state achieve its renewable energy targets. Program initiatives include the Developer & Investor Center and Self-Help Suite, a set of online tools that serve developers, investors, and stakeholders engaged in the development of renewable energy projects in Hawaii.  Additionally, the Renewable Energy Program team provides policy guidance and technical assistance to government agencies and industry.
Maria formerly served as Chief Engineer with the Hawaii State Public Utilities Commission, where she reviewed power purchase agreements, utility rate cases, and investigatory dockets, including Integrated Grid Planning, Integrated Demand Response, Performance Based Ratemaking, Power Supply Improvement Plans, and Electrification of Transportation as well as utility applications in the areas of utility gas, sewer, telecommunications, and water services.  Prior positions included Senior Advisor for Renewable Energy Technology and Renewable and Transportation Energy Program Manager with the Strategic Industries Division of the Department of Business, Economic Development and Tourism. Her professional association memberships include the Society of Automotive Engineers, the Institute of Electrical and Electronic Engineers (Senior Member and member of the IEEE Power and Energy Society and the IEEE Smart Grid Community), the American Society of Civil Engineers (ASCE Transportation and Development Institute and the Committee on Power Systems under ASCE's Energy Engineering Division), and the Hawaii Energy Policy Forum (Transportation Working Group Chair).
Contact the Renewable Energy Team at [email protected]