Grid Modernization
Grid modernization refers to computer-based control and automation technology to bring current utility electricity delivery systems into the 21st century. The benefits of grid modernization include improvements in efficiency, reliability, economics, and sustainability of the production and distribution of electricity all the way from the electricity's generation to the user's home and workplace.
While the main objective is to generate 100 percent of our electricity from renewable resources by the year 2045, there are a few Renewable Portfolio Standard (RPS) targets along the way:
30 percent – 2020
40 percent – 2030
70 percent – 2040
100 percent – 2045
Including a robust communications system in an electrical grid enables the grid to operate more efficiently and accommodate greater amounts of intermittent renewable energy. The blue dots represent communications nodes and the blue lines represent how the various components of the grid communicate with each other. Key to making the grid work is getting various vendors who supply equipment to the utility to adopt open-source field messaging that allows devices to communicate with each other. On the mainland, utilities that have embraced such "interoperability" show they can better manage solar intermittency. The addition of communications to the grid allows for near-instantaneous distributed optimization decisions among battery storage, inverter, meter and PV panels, a feat that would be impossible for a centralized system.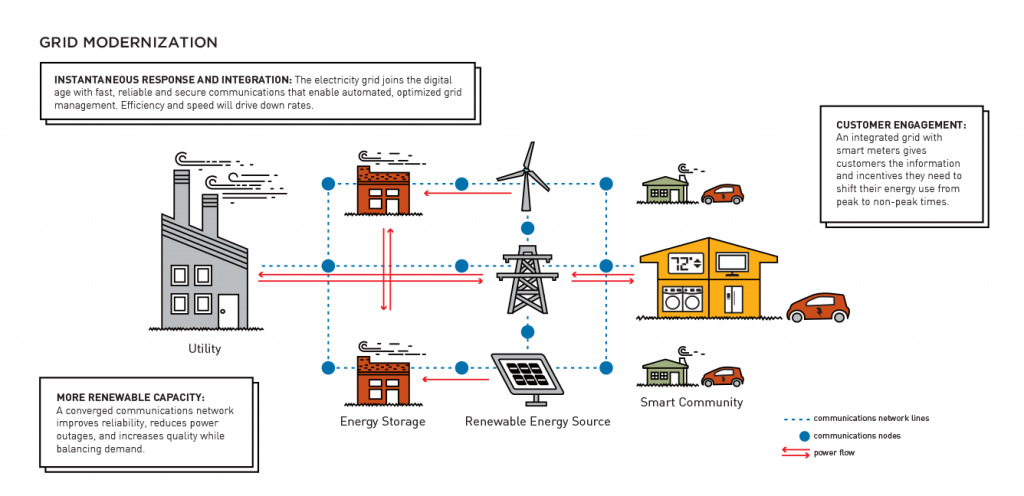 GRID MODERNIZATION IS A KEY ENABLER OF CLEAN ENERGY
Grid modernization plays a strategic role in helping Hawaii achieve the 2020 and 2030 clean energy objectives.
The state believes grid modernization will allow Hawaii to:
Encourage private investment so the people of Hawaii won't have to bear the full burden as we transition away from oil
Take advantage of utility-scale and distributed generation resources, both of which are equally important to our clean energy goals
The strategy to achieving a modernized grid involves three steps:
1.   Adopt rules and standards as recommended by the Reliability Standards Working Group (RSWG)  (PDF), as established by the Hawaii Public Utilities (PUC).
Formal establishment of an electricity reliability regulatory oversight program and Hawaii Electricity Reliability Administrator (HERA)
Supporting the utilities in implementing the ProActive Approach – a methodology by which circuit "hot spots" and associated studies and upgrades are determined by the utility before a specific interconnection project is presented to them
Establishment of a standard interconnection agreement to provide developers and the utility with terms, conditions, and study procedures, so that a tight timeline and associated expense for interconnection can be obtained
Accelerated analysis and approval of the findings from a Hawaiian Electric Companies' consultant which revealed that measures can be taken to eliminate or substantially reduce excess energy curtailments of renewable generation
Installing smart meters and inverters in the utilities' grid infrastructure
2.   Develop sufficient storage capacity and advanced grid upgrades
Looking into viable energy storage options such as batteries, pumped hydro, and compressed air
Dealing with existing issues such as curtailment, peak loads and load smoothing
For more information on Hawaii's energy sector and progress in the areas of energy efficiency, renewable energy, and clean transportation, download the 2020 Hawaii's Energy Facts & Figures (PDF).