Energy Financial Assistance Resources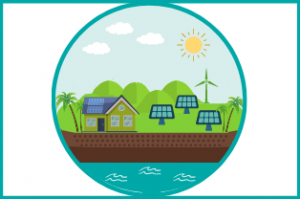 Energy costs can be overwhelming for families in any economy. Identifying and pursuing financial assistance opportunities may help to reduce the stress of energy utility bill burdens. For more information, read through this page and click on the assistance topic best suited to your current needs.
Each county in Hawaii has its own Community Action Agency that administers and provides additional information for energy financial assistance programs.
Payment assistance programs assist in paying utility bills or managing utility cutoffs.
Improving the energy efficiency of your home may help lower your energy bills. Energy efficiency rebate programs help make supporting products more affordable; and Solarize campaigns are a great way to lower cost and educational barriers to renewable energy by increasing affordability and accessibility.
Community-Based Renewable Energy programs are alternative solutions to access renewable energy even if you are unable to install a system on your home. This section provides information on how Community Based Renewable Energy works and how to participate. 
This section includes necessary reference information about the "Low-to-Moderate Income" spectrum in Hawaii needed to qualify for various assistance programs. This section also includes energy-related tax credits and exemptions that may help reduce the financial burden of home energy expenses.