Green Business Program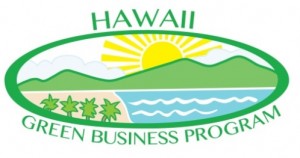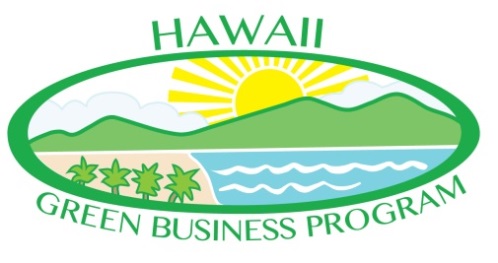 The Hawaii Green Business Program (HGBP) assists and recognizes businesses that strive to operate in an environmentally and socially responsible manner.
A partnership between Hawaii's Department of Health; Department of Business, Economic Development, and Tourism; and the Chamber of Commerce of Hawaii, this program highlights businesses that are dedicated to creating a sustainable Hawaii.
Hawaii Green Business Program Description
Fact Sheet: Hawaii Green Business Program
PROGRAM MISSION
To work with, assist and recognize businesses that strive to operate in an environmentally and socially responsible manner.
To facilitate opportunities for industry members to share sustainability best practices.
To help businesses go beyond compliance, particularly in the areas of:

Energy Conservation
Waste Reduction
Pollution Prevention
Water Conservation
Natural Resource Preservation
Community Involvement
Cultural Preservation
GO GREEN, $AVE GREEN
The HGBP creates a profitable partnership between business, government, and a concerned public. Through improvements in operational efficiency, procurement procedures, regulatory compliance and community relations, HGBP members see improvement to their financial bottom line, while supporting efforts towards a more sustainable Hawaii.
Benefits Include:
Reduced waste and utility costs
Improved systems and equipment performance
Positive public recognition and business promotion
Attracting environmentally conscious customers
Demonstrating community good will
Establishing good relationships with regulators
Providing a safer workplace
Motivating and recognizing employees' environmental efforts
Free onsite compliance assistance
Hawaii Green Business Awardees
OUR PROGRAMS
The Hawaii Green Business Program currently has four categories:
The HGBP initially focused on Resorts & Hotels due to the large number of visitors in Hawaii, and the potential for significant resource reduction through conservation. Successes there resulted in the HGBP expanding into other industries, targeting Office & Retail spaces, and more recently Restaurant & Food Service Facilities. Our program builds on the involvement and energy of our member businesses that serve as leaders within their industry.  Become an industry leader today!
The interactive map below shows businesses that have been recognized as a "green business" in the areas of hotel/resort, office/retail, and restaurant/food service.  Click on the icons for more information. Clicking on the links within the pop-up will let you view each business' accomplishments.
RESOURCES
Not sure where to buy recycled content paper?
Need ideas to reduce your energy consumption, but aren't sure where to start?
How about tips you can post around your business to remind employees of the small things that make a difference?
Check out our Resources Page for fact sheets and links that are useful for both businesses just getting started, as well as those striving to improve even more!