Powering Past Coal Task Force
By Executive Order, Gov. David Ige has established the Powering Past Coal Task Force (PPCTF). Chaired by Chief Energy Officer Scott Glenn, the purpose of this task force is to "convene stakeholders to increase transparency, coordination, collaboration, and urgency to timely facilitate, coordinate, and align project development and reviews by Hawaiian Electric, state, and county agencies for those measures anticipated to provide electricity for Oahu to replace the coal plant's electricity…"
Read Executive Order 21-01, Powering Past Coal Task Force (PDF)
Bookmark this page as it will be updated when additional information becomes available.
Background
In 2017, emissions from the Energy Sector accounted for 86% of Hawaii's total greenhouse gas (GHG) emissions according to the April 2021 Hawaii Greenhouse Gas Emissions Report for 2017. Of the 86% generated by the Energy Sector, transportation generated the most GHG at 51%.
Of the 86% generated by the Energy Sector, stationary combustion facilities generated the second most GHG emissions at 46%. Stationary combustion facilities include electric power plants, petroleum refineries and fugitive emissions from petroleum refineries, and industrial facilities.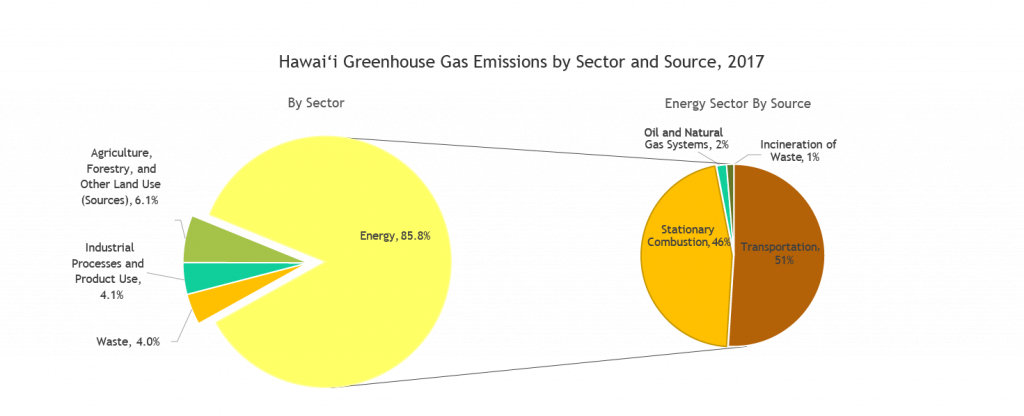 Source: April 2021 Greenhouse Gas Emissions Report, State of Hawai'i Department of Health
Oahu's only coal plant was the second largest stationary combustion source of GHG in Hawai'i in 2017, accounting for 7% of the total GHG emitted in Hawai'i (HDOH, 2021) and 17% of Hawaii's total GHG emissions from large stationary electric generating power plants, waste incinerating facilities, and refineries in 2019 (EPA, 2020).
The 180 MW coal plant generates firm electrical power for Oahu's grid. It is the largest single generator on Oahu, meeting 16% of O'ahu's peak electricity demand according to Hawaiian Electric (Hawaiian Electric, 2019). 
Act 23 (2020) effectively bans the use of coal for electrical power generation in Hawaii after September 1, 2022, the expiration date of the coal plant's power purchase agreement with Oahu's electric utility. In addition, Hawai'i is a member of the Powering Past Coal Alliance, an international organization consisting of national and sub-national governments, businesses, and organizations committed to accelerating the transition from coal to clean energy.
Replacing the coal plant's dispatchable electricity at cost-competitive pricing will require reductions in electricity use on Oahu, new grid service technologies, and the development of many new sources of energy. New sources of technology include, but are not limited to:
Some of the nine (9) utility-scale renewable energy projects intended to replace the electricity from the coal plant are experiencing delays that cause concern about cost and grid reliability, particularly for fall 2022 and summer 2023.
The reviews and implementation of these projects and the other identified measures on O'ahu can be facilitated by a coordinated stakeholder effort involving those entities with a key role in project permitting, including community engagement.
Accordingly, On March 30, 2021, Governor David Ige established the Hawaii Powering Past Coal Task Force to track and coordinate the progress of the projects and measures approved the Hawaii Public Utilities Commission (PUC) that are intended to replace the coal plant.   
The Task Force is not a policy-making or decision-making body and does not pursue statutory or administrative rule changes. It consists of members from State government, State legislature, the City and County of Honolulu, Hawaiian Electric, private sector developers, and established community and environmental advocacy groups in Hawaii. The Task Force has met once a month since March 31, 2021.
Master Schedule
To achieve the Task Force objectives, a primary activity of the Task Force is to develop and maintain a Master Schedule, which provides a timeline and status summary of the measures and projects needed to replace the coal plant with renewable energy. A copy is available for download at the link below. Past schedules are archived at https://energy.hawaii.gov/ppctf/master-schedule.
Note: The schedule is evolving and is subject to future additions and changes.
For the most up-to-date information on the status of each project, HSEO recommends referencing the PUC dockets and/or appropriate agencies regarding the status of their approvals.  Links to these dockets and webpages are embedded within the schedule. Schedule publish dates are notated within the document, previously published schedules will be archived and made available to the public.
Links