NEW ADMINISTRATOR APPOINTED TO DBEDT'S STATE ENERGY OFFICE
For Immediate Release: July 21, 2017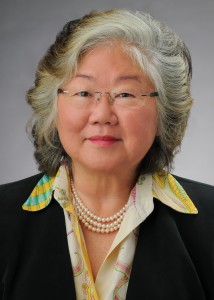 HONOLULU—Carilyn Shon has been appointed administrator of the Hawaii State Energy Office (HSEO), effective July 31.
In her new role, Shon will manage, develop, oversee and implement statewide energy programs, policies, and initiatives that support Hawaii's clean energy transformation. She has extensive experience in the energy field, most recently serving as Energy Efficiency program manager, for the past 17 years, at HSEO, a division of the state Department of Business, Economic Development and Tourism (DBEDT).
"Carilyn has considerable experience, having worked on a number of energy programs and projects," said DBEDT Director Luis P. Salaveria. "She has been with the state energy office for many years, and has a solid understanding of Hawaii's energy landscape."
In her current role, as Energy Efficiency program manager Shon is responsible for monitoring and implementing key strategies, including the state's efforts to reach the mandated Energy Efficiency Portfolio Standards. Her responsibilities also included supporting state and county agencies implementation of performance contracting for accelerated efficiency improvements; updating and promoting the adoption of the energy building code; and ensuring that state energy efficiency, conservation and renewable energy programs comport with state energy policy.
"I'm excited for the opportunity to utilize my experience to advance Hawaii's clean energy agenda," said Shon. "The Hawaii State Energy Office has played a significant role in the establishment and advancement of the Hawaii Clean Energy Initiative, and I look forward to creating a clear path toward the state's 100 percent renewable energy goals."
Through Shon's leadership Hawaii has received three National Governors Association (NGA) awards for participation in the Policy Academy on Advanced Energy Strategies for Buildings and the Center for Best Practices, as well as participation in NGA's workshop on Innovations in Energy Policy. For five consecutive years Hawaii has received national recognition from the Energy Services Coalition's (ERC) Race to the Top award as the leader in per capita investments achieved in performance contracting. In 2016, ESC also recognized the State of Hawaii as an Energy Stewardship Champion for its "outstanding accomplishments in leveraging Guaranteed Energy Performance Contracting to achieve infrastructure modernization, environmental stewardship and economic development. ESC is a national nonprofit organization of experts working together to increase energy efficiency and building upgrades through energy performance contracting.
Ms. Shon holds a BA in English from the University of Oregon and an MA in English and an M.Ed in Education from the University of Hawaii at Manoa.
###
Media Contacts:
Christine Hirasa
Department of Business, Economic Development and Tourism
Phone: (808) 587-9006
Mobile: (808) 286-9017
Website: dbedt.hawaii.gov