Energy Efficiency in State Agencies
It is essential to protect the state against escalating energy costs and to expedite energy efficiency improvements in state buildings and facilities to mitigate against the volatility of world oil markets.  Over the years, agency building and facility operational costs closely have mirrored the rise and fall in the price of oil and electricity.  Two excellent tools to increase energy efficiency in state buildings and facilities are benchmarking and performance contracting.
Fact Sheet: State Buildings Lead By Example
Fact Sheet: Department of Transportation Airport Energy Savings Program
In December 2013 the State Department of Transportation (DOT) entered into an energy savings contract with Johnson Controls, Inc.  The contracts for the Airports, Highways, and Harbors divisions totaled $245 million in large-scale energy efficiency upgrades.  The projects are expected to generate $680 million in energy savings and reduce overall energy consumption.  The Airports Division garnered the largest contract at $158 million and is nationally the largest performance contract signed by one agency.  Learn more about DOT's energy performance contracting in their video – Preserving Paradise.
Fact Sheet: University of Hawaii Community Colleges Energy Savings Program
Energy performance contracting is an agreement between a building owner (or facilities manager) and a private energy services company (ESCO) that future operational cost savings (such as for annual: electricity, water, sewer or solid waste charges, as well as equipment maintenance service contracts) can be used to pay for the entire cost of a building's energy and water efficiency retrofits (also known as energy conservation measures, or ECMs).  A building owner contracts with an ESCO to assist with 3rd party financing for mutually agreed upon ECMs and (after the third-party financing is secured by the building owner) the ESCO implements the mutually agreed upon ECMs under "design-build" work (which includes design, purchase, installation and construction of the ECMs).
For six consecutive years Hawaii has been awarded the Energy Services Coalition's (ESC) Race to the Top in recognition for leading the nation in per capita performance contracting for state and county buildings.  The ESC is a national nonprofit organization of public and private partners dedicated to supporting performance contracting. To date over $402 million has been invested in both State and County EPCs with cost savings expected to grow to more than $989.6 million over the 20-year life of the contracts.  DBEDT provides technical assistance to agencies.
State and County Performance Contracting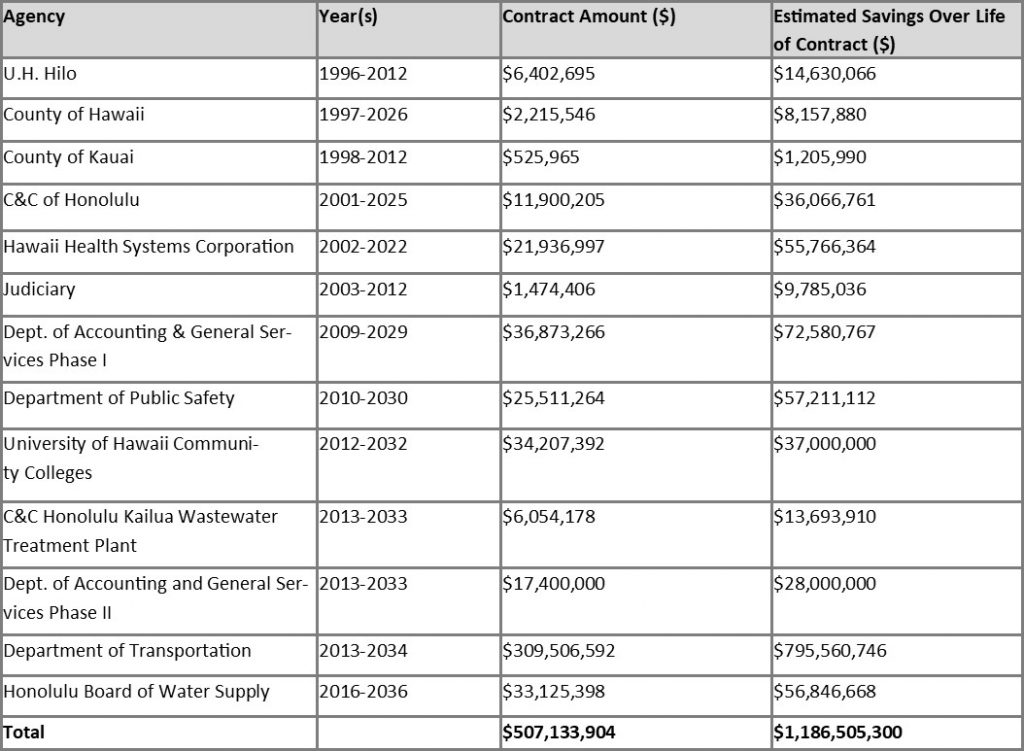 Energy Star Benchmarking/Building Certification
Benchmarking is a process which involves calculating the building's annual energy consumption per square foot, allowing buildings to be compared and identifying areas for improving energy efficiency.  If a building receives a score of 75 or higher, it indicates that the building is in the top 25% of similar buildings nationally and can be certified as an ENERGY STAR® building.  To date 277 state facilities have been benchmarked using the ENERGY STAR® Portfolio Manager online tool.    As of 2014, 21 state buildings have received the ENERGY STAR®.
Resource Efficiency Program
This program provides an opportunity for government agencies to participate in working toward smart energy and resource efficient operations while benefitting from lower operational and utility costs.
Recognized Government Agencies
Resource Efficiency Information
State Vehicle Purchasing Guidelines
FY14 Lead By Example Report to the 2015 State Legislature
For more information on Hawaii's energy sector and progress in the areas of energy efficiency, renewable energy, and clean transportation, download the 2020 Hawaii's Energy Facts & Figures (PDF).