Utility Resources
Utility Landscape in Hawaii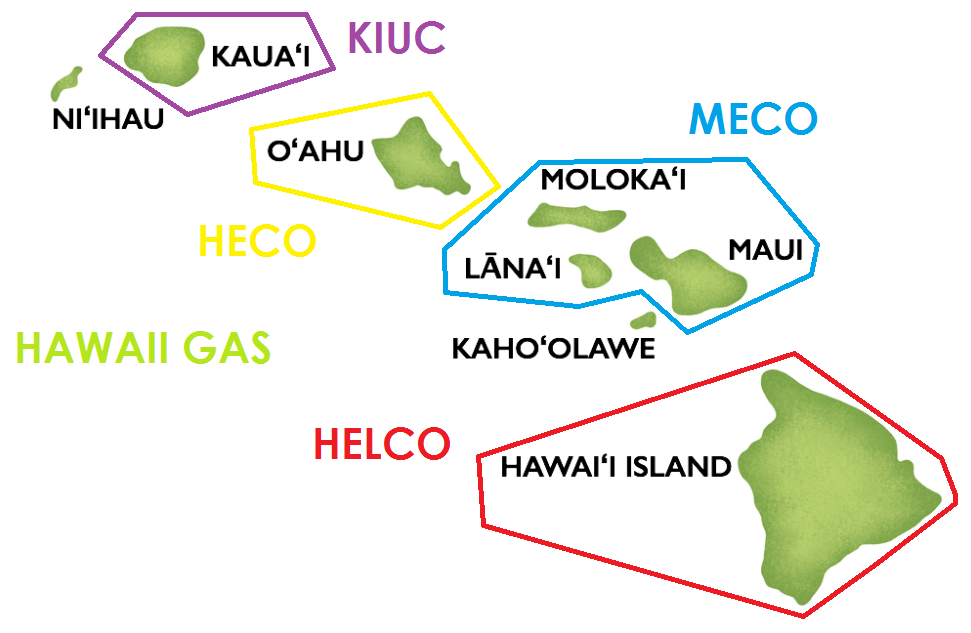 Hawaii's Energy Utilities
Each Hawaiian Island with a utility presence has its own independent electrical grid (Niihau and Kahoolawe do not have electrical utilities), which can make the integration of high amounts of renewable energy challenging.
Four electrical utilities currently purchase, transmit, distribute, and sell electricity in the State of Hawaii:
MECO and HELCO are subsidiaries of HECO, which is owned by the publicly-traded, investor-owned parent company, Hawaiian Electric Industries. Collectively referred to as Hawaiian Electric Companies, HECO, MECO, and HELCO provide power to the vast majority (about 95%) of Hawaii's population.
KIUC services the remaining population on Kauai.
In addition to its electrical utilities, Hawaii's has one franchised gas utility, Hawaii Gas, that services the islands of Kauai, Oahu, Molokai, Lanai, Maui, and Hawaii Island through installed gas pipeline infrastructure in some areas, bulk storage facilities, and mobile gas equipment and tanks.
Regulatory Oversight
The Hawaii Public Utilities Commission (PUC) regulates Hawaii's electrical utilities, including the review and approval of certain individual renewable energy projects and programs.
Finding PUC Dockets: The Hawaii PUC's Document Management System provides an online service to review PUC dockets and filings related to renewable energy projects and programs. Most significant renewable energy projects and programs in Hawaii will have a corresponding PUC docket and docket number.
The Hawaii Division of Consumer Advocacy (DCA) protects and advances the interests of Hawaii's consumers of regulated public utilities and transportation services.  DCA is a party to all PUC dockets involving renewable energy projects and programs. In addition to DCA, other public and private entities can become parties to individual PUC dockets under certain proceedings.
Selling Power to Hawaii's Electrical Utilities
Renewable energy can be sold to Hawaii's electrical utilities in many ways, including the methods discussed below.
1)  Power Purchase Agreements and Fuel Supply Contracts
Summary:  Power purchase agreements (PPAs) are contracts between independent power producers (e.g., wind farm, solar farm, biomass plant) and Hawaii's regulated electric utilities in which the producer sells energy to the utility at a contracted price. Similarly, fuel supply contracts are used by Hawaii's utilities to purchase fuel (biofuel) that is converted to electricity and sold to Hawaii ratepayers. These contracts provide the mutual benefit of allowing the utility to purchase a lower cost energy resource as well as enabling the renewable energy developer to secure a longer term revenue contract. In Hawaii, the PUC must review and approve all PPAs and fuel supply contracts through its docket process.
Competitive Bidding Framework
HECO, MECO, and HELCO are required to follow the "Competitive Bidding Framework" for new generation projects greater than 5 megawatts (MW) on Oahu and 2.72 MW on Molokai, Lanai, Maui, and Hawaii Island. For more information on ongoing competitive bidding processes or requests for proposals from HECO, MECO, and HELCO, visit Hawaiian Electric's Producing Clean Energy website. Alternatively, HECO, MECO, and HELCO may apply to the Hawaii PUC to receive a waiver of the competitive bidding requirements for certain projects that are not eligible or compatible with the competitive bidding process, which can include self-build projects initiated by the utilities and projects that do not conform to ongoing requests for proposals.
Hawaiian Electric – Competitive Bidding for New Generation
Because it is NOT subject to the Competitive Bidding Framework, KIUC has more flexibility on procuring or developing new renewable energy projects, but must still seek PUC approval for large renewable energy projects.  KIUC offers a variety of programs and tariffs for renewable energy producers.
2)  Schedule Q Procurements
Summary:  Schedule Q describes the standard rates, terms, and conditions that apply when the utility purchases as-available or excess energy from customers with small cogeneration and/or small power production facilities of 100 kW or less in capacity.
Hawaiian Electric Schedule Q Program
3)  Residential and Commercial Installations / Standard Interconnection Agreements
Summary:  There are numerous programs available for electricity customers to interconnect their own renewable energy systems, some of which provide for compensation from the utility. Standard Interconnection Agreements allow system owners to displace energy from the grid with energy produced by their own on-site systems under an established tariff.
Hawaiian Electric Customer Renewable Programs
Hawaiian Electric Standard Interconnection Agreements
Important Notice:
These resources are advisory and for informational purposes only and may not be relied upon to determine regulatory or interconnection requirements for any project.
For comments or questions about the Developer & Investor Center, please contact the Hawaii State Energy Office.